You can read my previous hypersync testing results here:- Hypersync Test 1, Hypersync Test 2, Hypersync Test 3, Hypersync Test 4 (Diana), Hypersync Test 5, Hypersync Test 6 (Emilee)
This test with Alexandria was a complete departure from my previous tests which had been conducted to establish that I that I could comfortably shoot at 1/2,000th of a second at 100 ISO and F2.8 in bright outdoor light with my Nikon D3, Alien Bees and Pocket Wizard transceivers. And I had established that I could shoot all the way up to 1/8,000th of a second with minimal cropping to the frame.
With that knowledge I wanted to try something completely different. I have played with freezing liquids in a studio setting using the fast flash duration of speedlights to freeze the liquid, but I wanted to see if I could use fast shutterspeed to freeze the liquid outdoors in bright sun, but overpowering the sun with studio strobes.
Freezing Liquids Outdoors Concept
You may ask, why do I want to freeze water outdoors in a bright setting?
Well, when you freeze liquids in a studio setting you are typically shooting against a dark background (typically black) and backlighting the liquid with the speedlights. There is generally no color in the liquid. For instance, frozen water looks like a lovely mass of molten acrylic, shiny, sparkly and totally clear with the back studio backdrop showing through the liquid. And of course when shooting opaque liquids like milk you end up with a frozen white liquid with droplets.
And the uniformity of color and background makes Photoshop work so simple that creation of composite "liquid dresses" whether they be water or milk, are relatively easy to shoot and composite in various ways.
But if you shoot outdoors in a bright colorful location, the clear water will refract all the colors of the background into the frozen mass, essentially creating a molten multicolored acrylic canvas, as you can see. And with the detail and color contained in the water, you really need to capture the full image in the camera, as it will be a total pain to build up a composite image in Photoshop.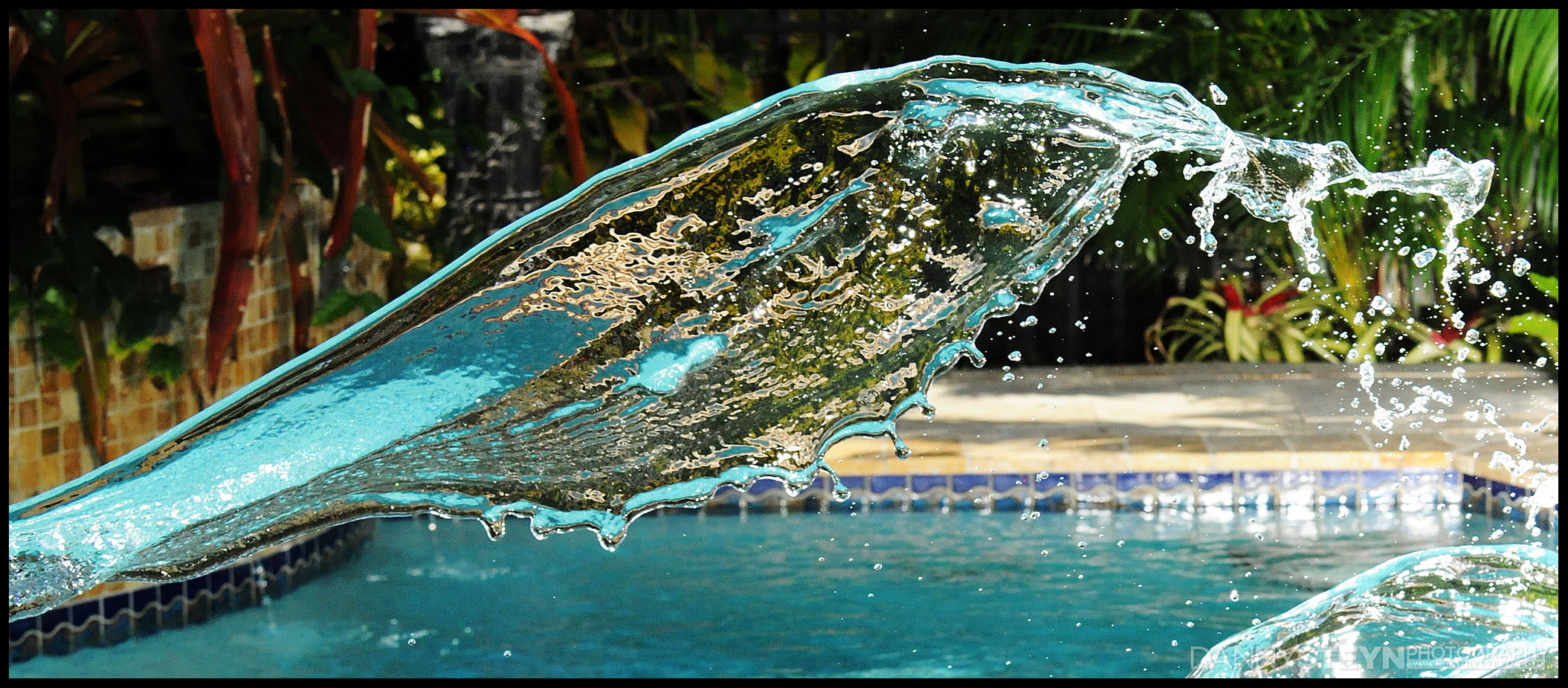 Practice makes perfect
I have tried freezing water outside in bright sun with hypersync several times in the past all with less than perfect results. My main issue is that I always shoot glamour at around F2.8 to F4.0 with long lenses in order to have the sharp model pop off the blurred background. But when you throw water in front of or behind the model, now you need depth of field otherwise the water splashes will be out of focus, essentially destroying the intended effect (as seen in the image below with two water streams separated in by approximately 4 feet).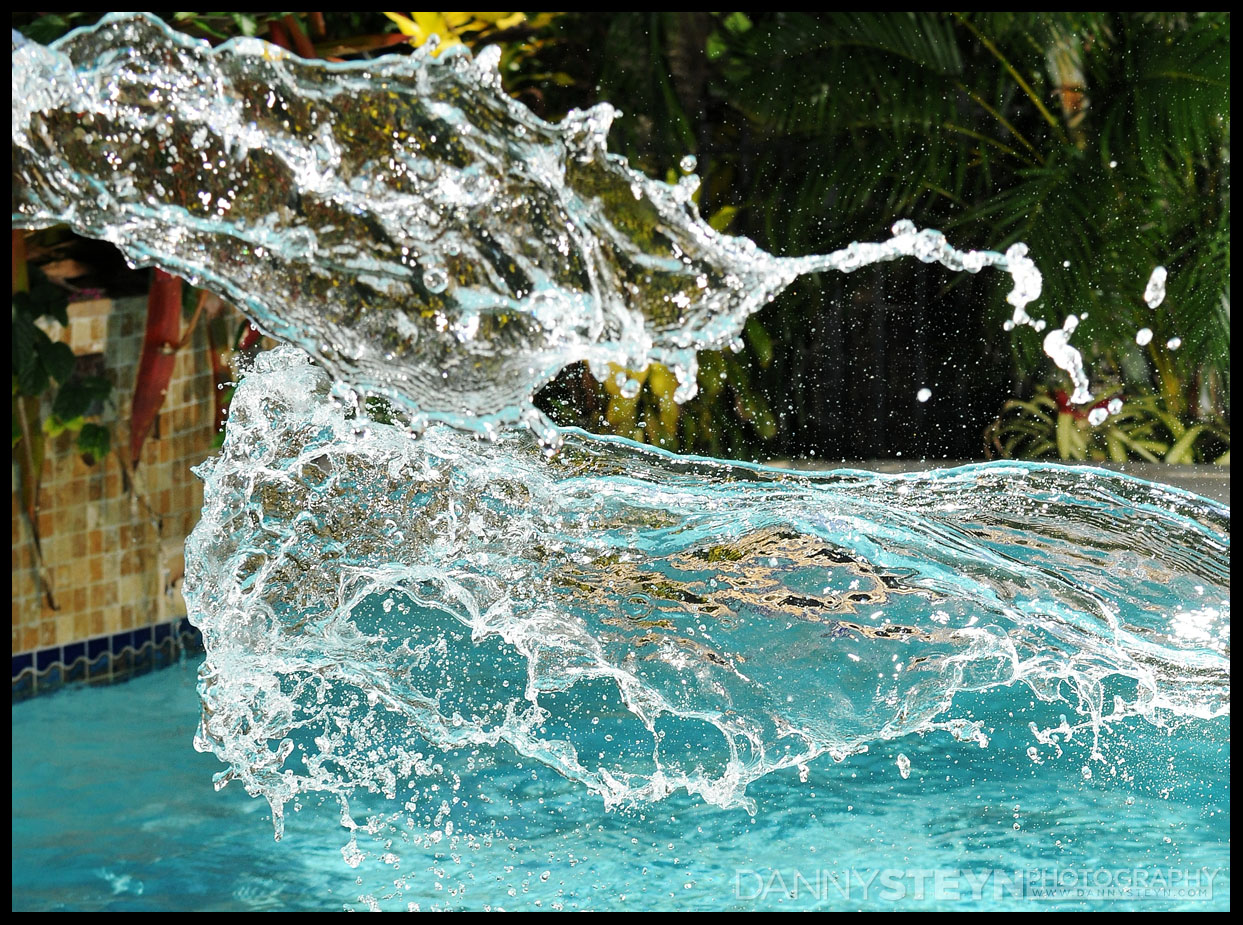 So now this means you need to have a smaller aperture to create a larger depth of field to have both the model and the water in focus. Or you can shoot with a short lens, and have the entire scene in focus, something that I almost never do in glamour.
So during this shoot I was totally out of my comfort zone.
Also, shooting at smaller apertures with hypersync adds another wrinkle. When you shoot with hypersync you are not getting the full flash illumination that you would normally get at the standard camera flash sync speeds. You are getting the tail of the flash, very often a small fraction of the rated flash power of the head. And when shooting with hypersync, not only is the aperture affecting the flash illumination, but the shutterspeed now also has a linear relationship with the flash illumination. The faster the shutterspeed the less flash illumination provided.
Hypersync Settings – Nikon D3, 4 x Alien Bees 640WS at full power, Pocket Wizards
So, in trying to freeze water outside with flash, not only do I have to go to a smaller aperture, but I also have to shoot at a shutterspeed of somewhere around 1/4,000th to 1/8,000th of a second, both variables killing the already reduced flash power available. This only leaves ISO, so once again I am forced out of my comfort zone and I am forced with the flash power I have available to shoot at way higher ISO's than I ever do in my glamour work. For this test I ended up shooting at around 1,000 to 1,600 ISO, and of course deal with the associated noise/grain.
The Shoot
I also had an idea to incorporate an assortment of balloons in the water to add excitement and add more specular highlights so we all spent an age inflating, tying off and weighting down 50 odd balloons, and trying to get them to cooperate. Unfortunately the translucency of the balloons meant that flash power the perfectly exposed the model completely blew out the highlights in the balloons, so that idea never really worked.
The gorgeous Playboy model Alexandria Kingsbury graciously collaborated with me on this project and I was ably assisted by two Art Institute students Brian and Lazaro. I tried all aperture, shutterspeed and ISO combinations, along with a host of lighting approaches, using scrims, modifiers, barn-doors and flags and finally nailed down something that worked. And of course there were hundreds upon hundreds of buckets of water tossed in front, behind and on top of our lovely model, all trying to nail that one defining shot that I had visualized in my mind. Of course, converting the visual idea into a finished product was way more difficult than I had imagined and as far as I am concerned the defining shot never materialized.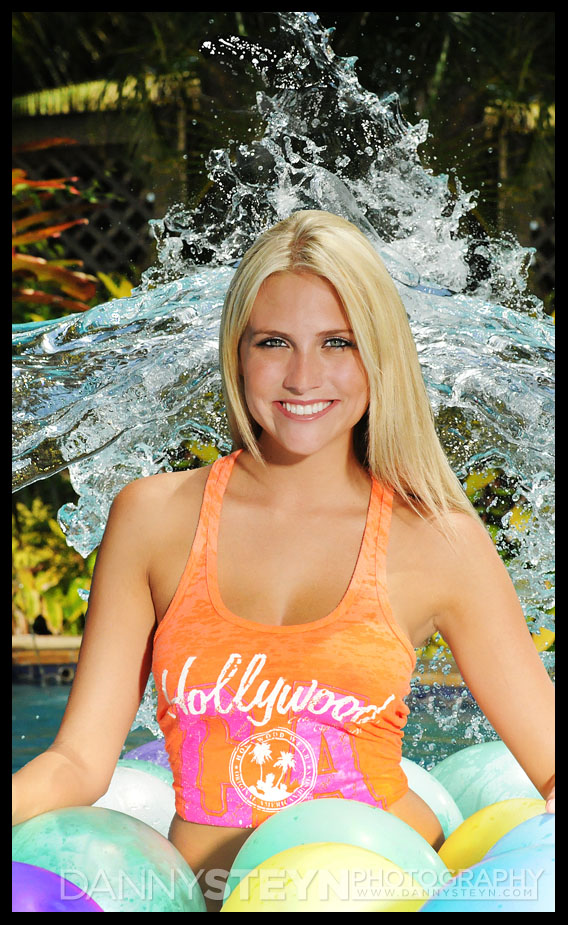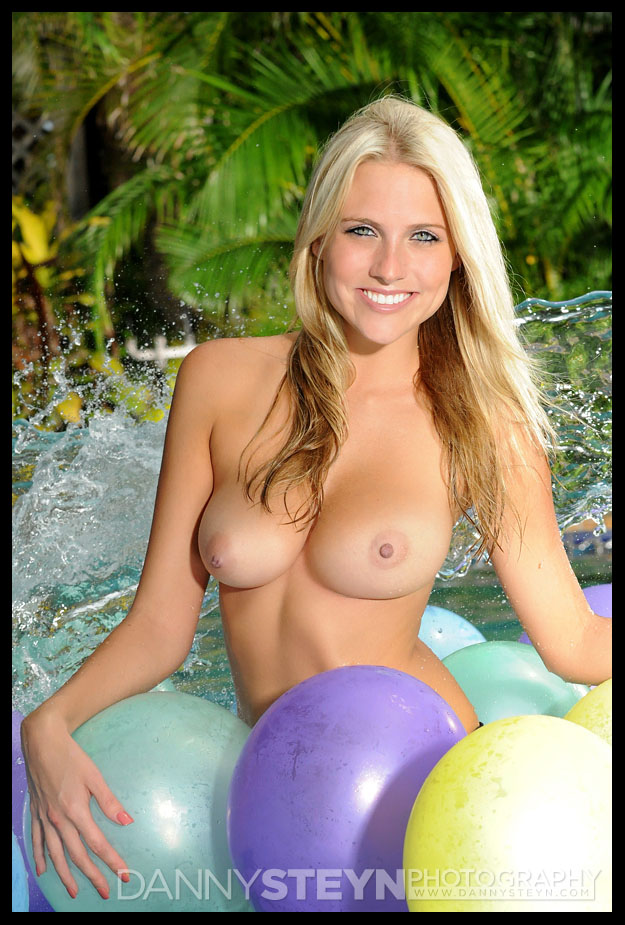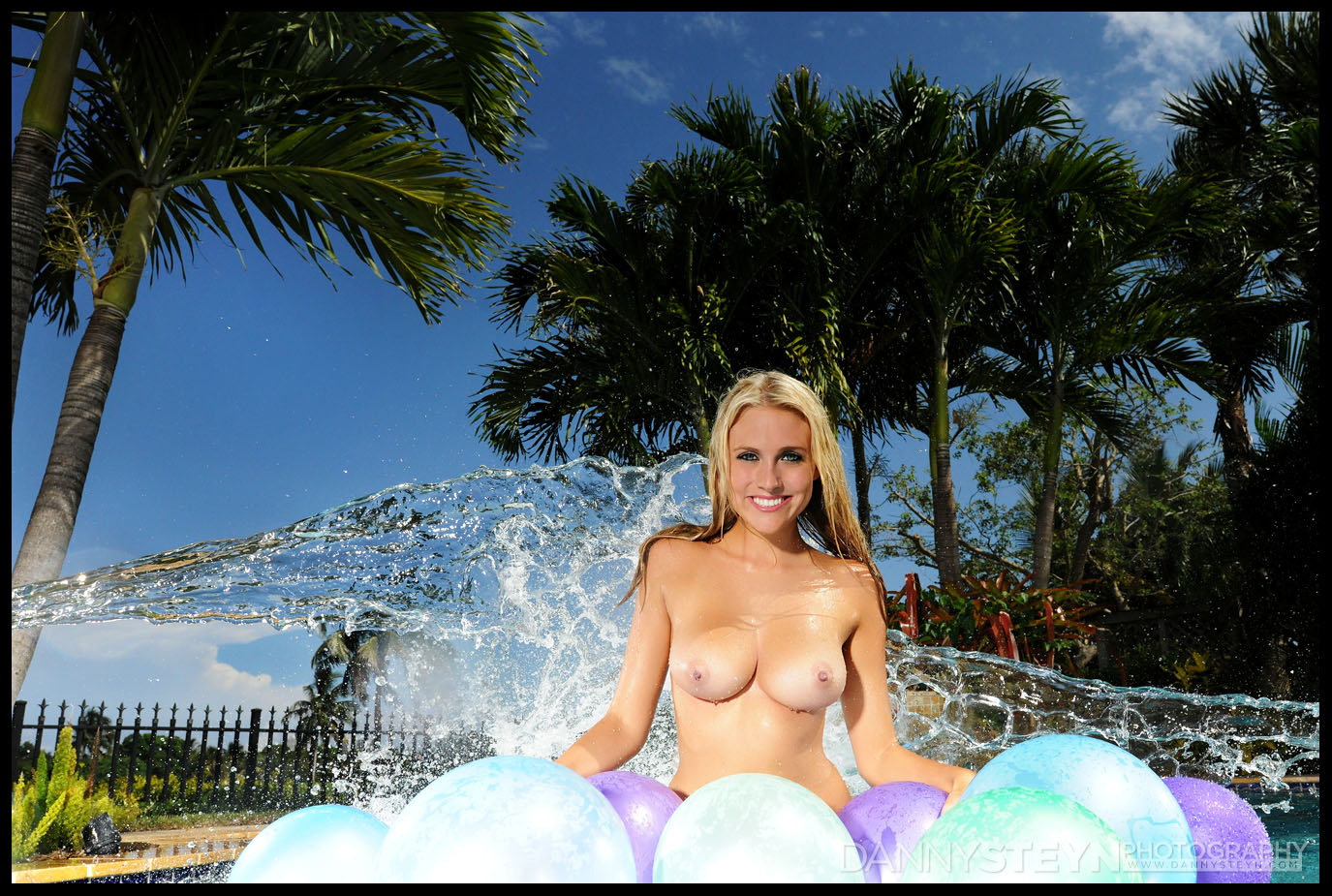 Once again Hypersync allowed me to do something that would not be possible using HSS or standard flash sync speed, and I am pretty encouraged with the results. However, Hypersync once again proved to be problematic by not being consistent throughout the shoot. This further reinforces me experience that the technology is great for personal work but is not reliable enough for me to use with my commercial clients.