Hypersync with Nikon D3x and Nikon SB 800/SB 900 flash
Pocket Wizard's hypersync function allows you to use flash at shutter speeds well over the standard maximum synch speed of your camera (in most cameras the max flash synch speed is around 1/250th of a second).
Why do you need flash synch at speeds over 1/250th second?
So why would you want to use flash at speeds higher than 1/250th? There are many reasons, ranging from freezing action in sports photography to my case where I shoot models outdoors and I run into the typical issues all photographers face……
If you shoot the model in direct sunlight and you want to use a wide aperture to create a narrow depth of field that blurs the background and makes the model pop out of the shot, then you have to use higher shutter speeds, even at low ISO values. My typical early morning sunrise beach shots require shutter speeds in the range of 1/1,000th  – 1/2,000th at my preferred shooting apertures ranging between F2.8 and F4.0 at 100 ISO. This means that you cannot use flash and you need to use reflectors to fill in the shadows.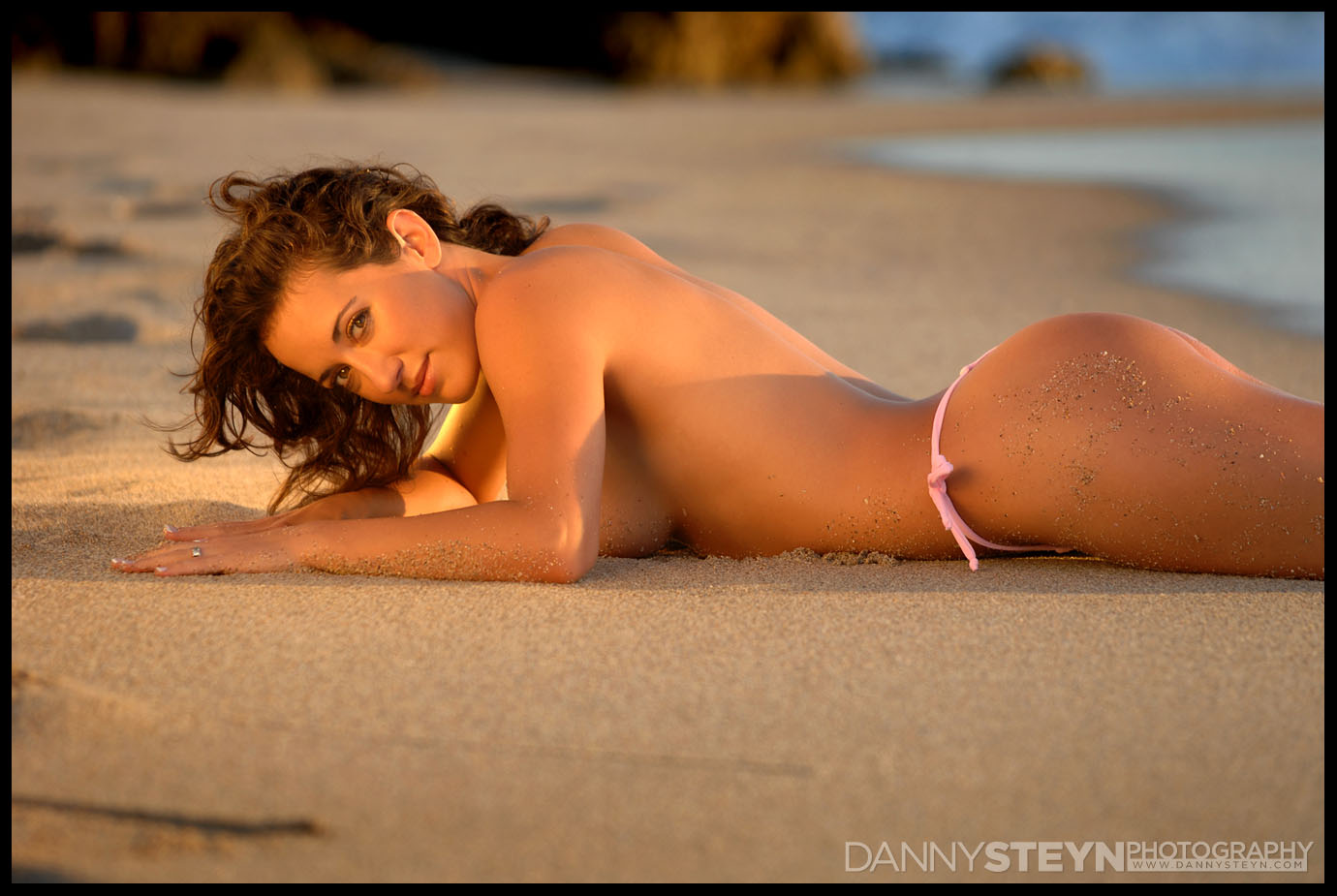 And while approach this has worked incredibly well for me over the years there are several issues created with the reflector approach
The model has to keep her eyes closed until the moment the trigger is tripped so she does not have to stare into the bright reflector reflecting the sunlight into her otherwise silhouetted face. Keeping the model's forehead relaxed and her eyes fully open is always a struggle in these situations
Often the wind direction is coming from the same direction as the sun, and to keep the model rimmed by the sun, you end up with her hair blowing around her face, making shooting in the that direction almost impossible.
So it would be really great to shoot at 1/2,000th of a second at f2.8 and use flash to fill in the shadows. This gets around both of the problems above as the model no longer has to deal with a bright light continuously in her face, and it also allows you to orientate the model in such a way that the wind is blowing her hair in an acceptable direction.
Hypersync vs. HSS (High Speed Sync)
There are at least two methods that allow you to use flash at higher than normal synch speeds
HSS (High Speed Synch). This essentially makes the Nikon strobes fire in continuous low power pulses, and while it works very well in most situations, the power fall off from the flash firing thousands of consecutive low power flashes means that you cannot get normal illumination from your flash. So you have to gang several flash heads together and bring the flash units very close to the model. This often results in uneven illumination and also results in overheating the flash heads if you are shooting a lot of images in quick succession. I have used HSS shooting models at high shutter speeds but the inability to pull the flash heads further back from the model to create more evenly lit model has resulted in less than ideal results, and the overheating is a real issue.
Hypersync. This technology is achieved using Pocket Wizard hardware and software to create a pre-trigger event to get most of the illumination from the flash head to synchronize with the higher than normal shutter speed. In my case I use the Nikon specific Pocket Wizard TT1 transmitters and the Pocket Wizard TT5 transceivers. Hypersync can be used with both Speedlights (Nikon, Canon flash heads etc.) and with studio lights, but note that both have to be set at FULL power (in most cases) meaning that you have no flash exposure control other than the distance of the flash to the model. In the case of studio lights, they offer way more power (WS) than speed lights, so can potentially offer substantially faster shutter speeds and allow you much greater flash to model distances and allow you to use modifiers like soft boxes that create more even illumination. However the down side to using studio lights outdoors on location is that they need a power supply (either generator or portable battery) and are heavy to drag around outdoors, and of course large light boxes are prone to blowing over in the wind so you need additional sand bags to secure the light stands. Note that in the case of studio flash units, a light with a LONGER flash duration works better in Hypersync than a flash with  a shorter flash duration as the tail of the flash is better able to synch with the elevated shutter speed
TEST:- Hypersync with Nikon D3x and Nikon SB 800/SB 900 flash
In this test I am purely going to see what results I can achieve with my Nikon D3x and my Nikon SB800 and SB 900 strobes in hypersync mode. I have 6 of these but will only use 4 in this test. I wanted to do the test with the default PW settings (not adjusting any timing offsets in the software application) to see if it would work and then only make adjustments if the results were unacceptable.
I wanted to do the test at midday to deal with the harshest conditions but rain kept me inside and the test was conducted late in the afternoon. I shot at 100 ISO and F.8 with a 70-200mm lens.
First determine ambient light exposure
I first checked ambient light with no flash to determine what I considered the ideal exposure to give me the underexposed saturated background that I wanted

While I actually liked the look of the background exposure at 1/800th, I settled on 1/1250th of a second to see if I could get the flash to synch at shutter speeds that I would typically deal with in my normal early morning beach shoot scenarios.
Pocket Wizard Nikon SB900 / SB800 speed lights in Hypersync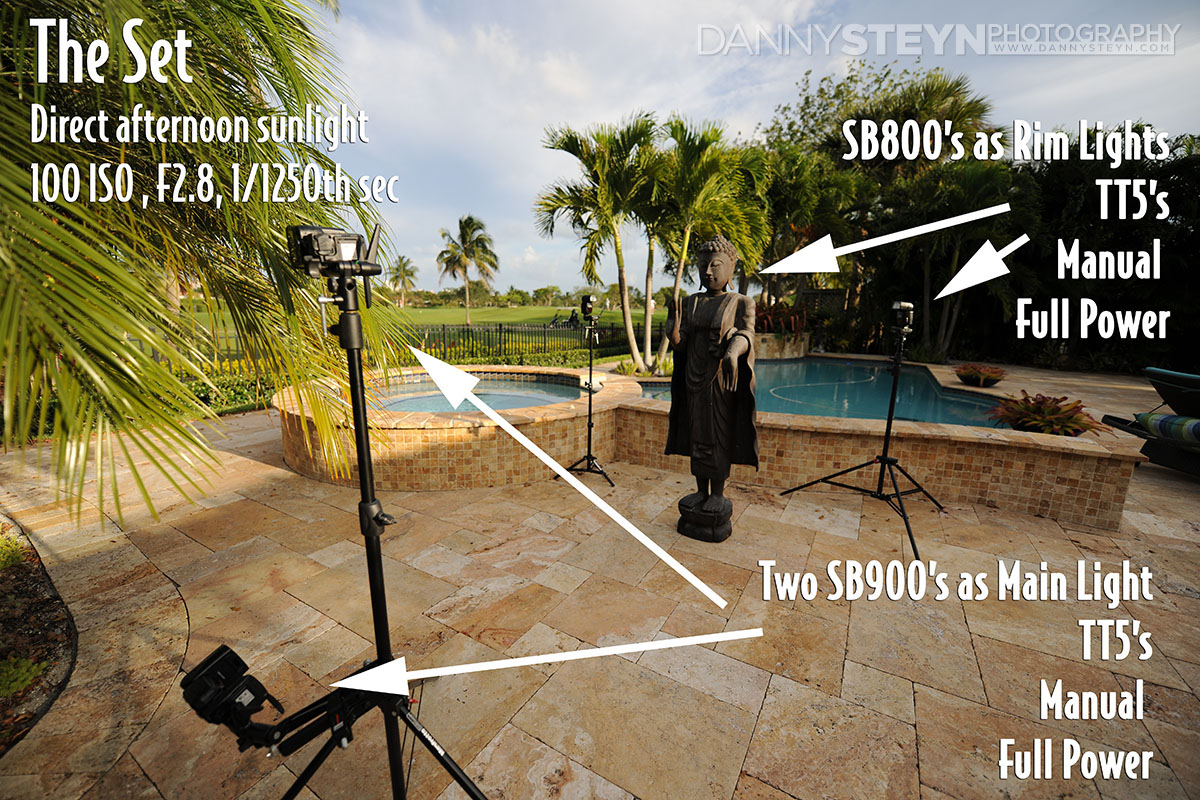 I positioned the flash units as follows. Note that I ganged two SB 900's as my main lights as the distance to the "model" was too close to get even illumination over the full length of the model with just one bare flash head, so I added a second head lower down on the light stand to illuminate her "legs".
The right hand side of her face was bathed in direct afternoon light. Below you will see a couple of examples. All images were shot in landscape format. None of the images below have been edited other than the text placed over the images. They are just as they came out of the camera, no adjustment of levels, color, contrast, saturation etc. They are also shown full height so we can see if any banding occurs (bottom of frame in landscape format on Nikon cameras)
I am happy to say that I was able to get very usable results with the 4 Nikon flash heads at speeds all the way up to 1/8000th of a second at F2.8 and at F4.0. The minute I tried stopping down the aperture to F5.6 or smaller, the flash units were not able to illuminate the model adequately, so this is where the studio lights would start to come into play. I achieved these results with the default PW settings, no adjustments were made to the flash offset timing.
It is important to note that when using hypersync, in these elevated shutter speeds, the flash duration is now inherently longer than the shutter speed, so now not only does the aperture control the flash exposure, but so too does the shutter speed. This is completely different to shooting with flash at shutter speeds under the sync speed where shutter speed has not effect on the flash exposure.
This means that if you want to shoot at really high shutter speeds around 1/4000th or faster, you will have to gang several speedlights together to compensate for the reduction in illumination.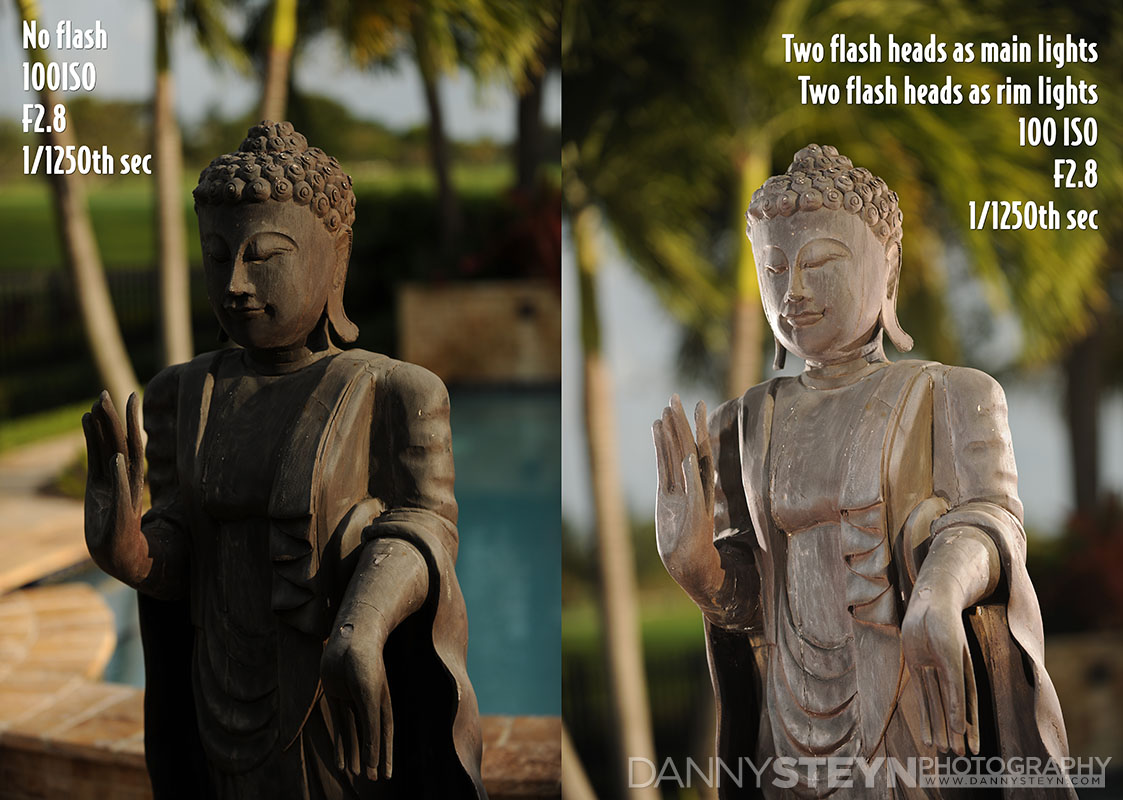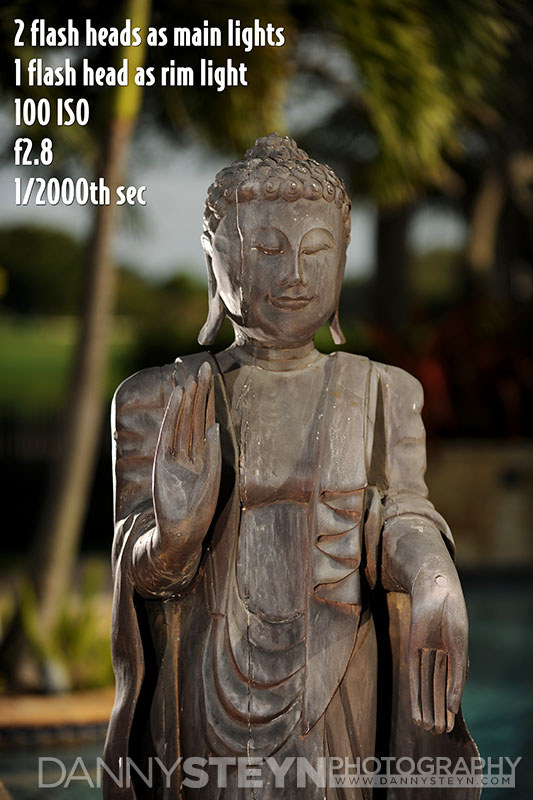 Nikon Hypersync Summary
In summary the PW TT1 and TT5 units allow you to use Hypersync with Nikon (and other brands of speedlights) at much higher than standard shutter speeds. This allows you to
freeze action in sports photography,
use wide open apertures in bright sunlight,
to overpower the sun (to a limited effect with speed lights)
to underexpose the ambient light background to create deeply saturated images.
And I encourage you to do your own testing. Do not rely on my information as all cameras and flash units behave differently in Hypersync.
Click here to see the next HYPERSYNC test