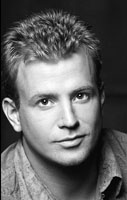 Since 2004, Brian Immke has been a key player in the team at Danny Steyn Photography. Brian Immke is a Commercial Photography graduate from the Art Institute of Fort Lauderdale and studied Fine Art Photography at Ohio Wesleyan University. Brian gained his trademark high-end style under the tutelage of some of South Florida's great photographers including David Vance, Pete Barrett, Joe Gemiani and Rodrigo Varela. Possessing a keen eye and a fine sense of style, Brian's talent compliments an already strong team at Danny Steyn Photography.
Brian specializes in people, shooting engagements, family portraits, headshots and more. He is also an accomplished product and commercial photographer. Brian is also our primary wedding photographer.
In the gallery to the right are samples of Brian's outstanding photography - click the thumbnails to see full size images.
BRIAN'S REFERRALS AND RECOMMENDATIONS
"Imagine having an idea in your head and actually seeing it come to life in a photograph...That's what Brian Immke does! An artist, who through collaboration, will bring out the artist in YOU."
Ayme Sanchez, Recording Artist/Songwriter (Commercial Client)
"Working with Brian has been a pleasure and the quality of the photography top notch! We were thrilled to have found someone with his skills and I would highly recommend him to anyone."
Vanessa Conde, Krieger Watch Corporation, VP. Marketing & Operations (commercial client)
"It was my first time doing any shots of this sort. Brian made me feel very comfortable. The shots turned out very beautiful, my husband adored the photos and he wants me to go back for more.
Krisy (boudoir client)
"Brian, we are so proud of our wedding pictures, they are absolutely beautiful and captivating. We could not have chosen a better photographer for our wedding. You were very professional.
Vanessa and Rimon (wedding client)
"Brian, we cannot thank you enough for the amazing work you have done on our special day.  The photos were so much better than we could have ever imagined.
Kelly and Joel (wedding client)
"I just got Lexie's pictures and they are awesome! Everyone I show them to just says "wow!". Brian was very meticulous about lighting and his efforts really show in the pictures. Thank you."
Debbie McAuley, North Port Florida (teen model client)
"Brian, you are an example of how excellent customer service works and we truly do appreciate it. The photos were a huge hit at Christmas, everyone raved!!!
Tracey Gilliam  (family portrait client)
"A personal photo shoot can be quite intimidating and even stressful, especially with nudity involved; however, my recent experience working with Brian was AMAZING! Brian made me feel totally at ease and I felt like I was working with a friend. The images I have received are exceptional!"
Jenny King (nude model portfolio client)